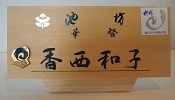 Click each picture thumbnail to enlarge.
Click "Related Post" under each picture to go to the related post page.
Currently, there're 8 pages of picture thumbnails, each pages having about 50 pictures. Please do not forget to see all 8 pages.
You can advance or go back pages by clicking page numbers, or click 'Previous page / Next page' links at the bottom of each page.
Kazuko's Ikenobo Flower Arrangements: