The inaugural meeting of North American Japanese Garden Association (NAJGA) was held on October 12-14, 2012 in Denver.
NAJGA asked the Ikebana International Chaper 66 (Denver Chapter) for flower arrangements at the dinner ceremony.
As a member of the Ikebana International Chaper 66, Kazuko made this 15th-Century-style Sunamono Rikka arrangement. This is not a Bonsai! The pine tree consists of branches cut from lodgepole pines by Kazuko's student, Bill Stufflebeem, from his land in the Colorado mountains. They are cut and assembled to look like a natural beauty of the tree, with screws and hidden nails.
It took about two days to prepare and build this arrangement, with a table saw for a sharp straight cut of the main trunk, an electric saw, an electric drill, an electric screw driver, and other power tools.
Kazuko does the final adjustment on site.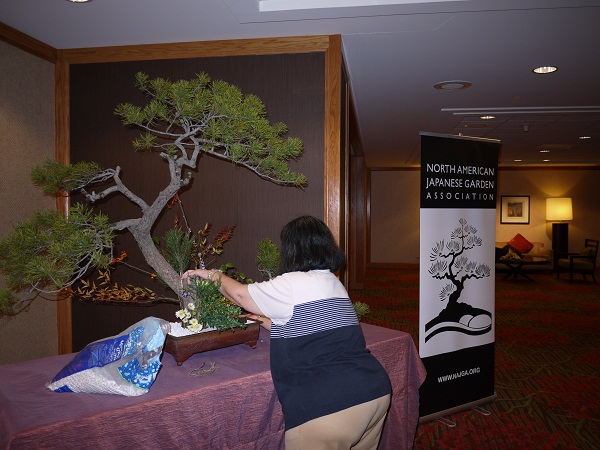 to see more pictures, click "Continue reading ->" below ….
Continue reading →