Kazuko will start offering the Basic Techniques of Rikka class starting in September, 2012.
See Kazuko's class schedule at:
Schedules
This class will be taught through a 5-6 class sessions to teach the basic of Ikenobo Rikka arrangement. The class will be offerred approximately once every two months. But, a student is expected to attend all 5-6 classes to be considered to have mastered the Basic Techniques of Rikka class.
In this class, s/he will be making Rikka arrangement like this, with easy-to-manage materials,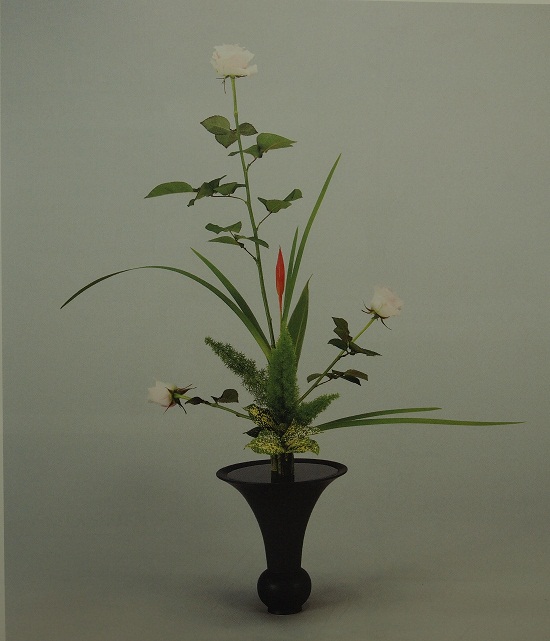 After learning this basic Rikka techniques, students can take more advanced classes to learn to build a bigger Rikka arrangement like the picture below, which will be taught later.
(Kazuko made alone this Rikka arrangament for Consulate General of Japan's Year-end party in Denver in December, 2011. The pine materials were provided by Bill Stufflebeem.)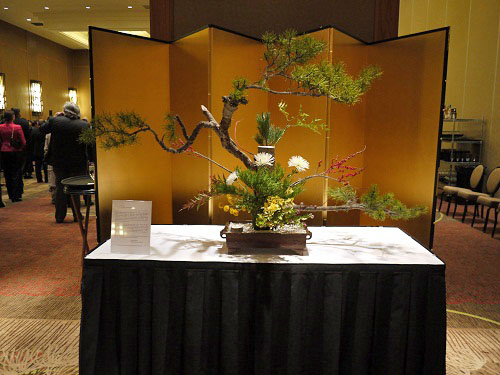 Kazuko decided to teach this class because very few Ikenobo teachers in this region of the United States are capable of teaching this subject.
Kazuko holds the 3rd Grade Senior Professor (Katoku) rank, and have attended the 2-year Special Advance Class at Ikenobo Central Training Institute in Kyoto, Japan. She graduated from the program in March, 2011.
She received all her Ikenobo certificates in Japan, or with Kyoto HQ's proof of competency/course completion.
She takes one or two classes at Ikenobo Kyoto HQ every year to keep up with the current techniques and teaching methods.